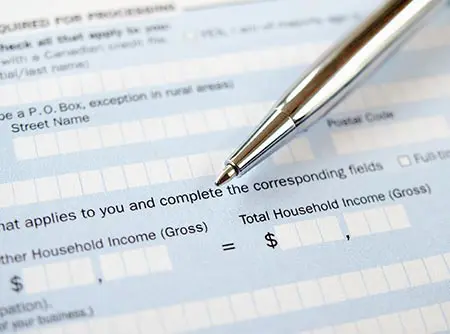 The United States Department of Agriculture (USDA) offers a home mortgage program that allows a borrower to receive a 100% financing home loan.
There are a variety of benefits to using a USDA mortgage to finance your home, and a number of eligibility requirements you must meet in order to qualify to do so.
For more information about USDA home loans, please visit our USDA Mortgages page.
How to Apply for a USDA Mortgage in New York State
Applying for a USDA home loan is no different than if you were applying for a conventional mortgage or an FHA mortgage. Working with a mortgage broker or lender, you'll work through the process step by step.
1. Complete a Standard Mortgage Application
Your Mortgage Loan Originator (MLO) will ask you to complete a standard application that allows the MLO to determine your credit score, your financial situation, your current address & employment history.
Wondering what types of questions will be on this application? Take a look at our sample application to get an idea of what to expect.
Curious about what you'll need to complete the application? Check out our guide to the documents and items you'll need to apply for a mortgage.
2. Find Out If You Qualify for a USDA Loan
After reviewing your credit and financial information, a determination based on your credit scores and income will allow the MLO to see if you would qualify for a USDA Home Mortgage.
Your scores must be high enough to proceed, and unlike with FHA & conventional mortgages, your income cannot be above a specific dollar value. USDA will add up the income of all members of the family and this is the maximum you can make to qualify. There are some deductions from this total such child care and elderly care, but this is the baseline.
Each county has their own threshold based on how many family members per household, and these limits change regularly. For an exact number, please contact Maple Tree Funding at 518-782-1202 or contact us online and we'll get right back to you with the information.
Curious about the other USDA loan qualification requirements? Check out a list of the eligibility requirements here.
3. Find a USDA Eligible Property
If it's determined that you DO qualify for a USDA home loan, the next step would be to find a property that is in a USDA eligible area – or to determine if the property you are interested in is located in one of those areas.
Typically, USDA loans are available to homeowners purchasing properties in rural areas. But if the home you're interested in is not in an area that you would consider rural, don't fret. Many of these 'rural areas' are not what most people consider rural. Before you assume that a property is not in an eligible area, do some investigating to find out whether or not it actually is.
Wondering how to find a USDA eligible property? Our guide to USDA eligible areas in New York State can help!
 Let Us Help You Obtain a USDA Mortgage!
These are the basics for how to apply for a USDA home loan, but it's important to keep in mind that the process may vary depending on your circumstances. It's helpful to have an experienced mortgage broker on your side to guide you through the process and help you through any complications that may arise.
If you're interested in pursuing a USDA home loan in New York State, we'd be happy to help you through the process. Our team of experienced mortgage professionals have helped thousands of New York home buyers find the mortgages that were right for them. We know USDA home loans inside and out – and if a USDA home loan doesn't end up working out for you, we can help you find a mortgage that does.
Wondering if a USDA home loan might be the right option for you, but not sure if you'll qualify? Reading through this guide to 5 key USDA loan eligibility requirements may help you get a better idea of whether or not USDA is right for you.
Ready to apply for a USDA home loan with us? You can start the application process online right here!
Have questions or concerns? Please don't hesitate to give us a call at 518-782-1202 or contact us online.
Posted in
Guide to USDA Home Loans
on Friday, January 19, 2018 by Maple Tree Funding