Early in 2023, the VA announced that they would be making a scheduled change to VA funding fee rates. 
The funding fee percentages for VA home loans, including construction loans and refinances, will be decreasing as of April 7, 2023. This is good news for home buyers looking to finance purchases through VA home loans! 
VA Loan Fees for Loans Closing Before April 7, 2023
The current VA loan fee rates still apply for loans closing before April 7, 2023. These fees are detailed in the charts below: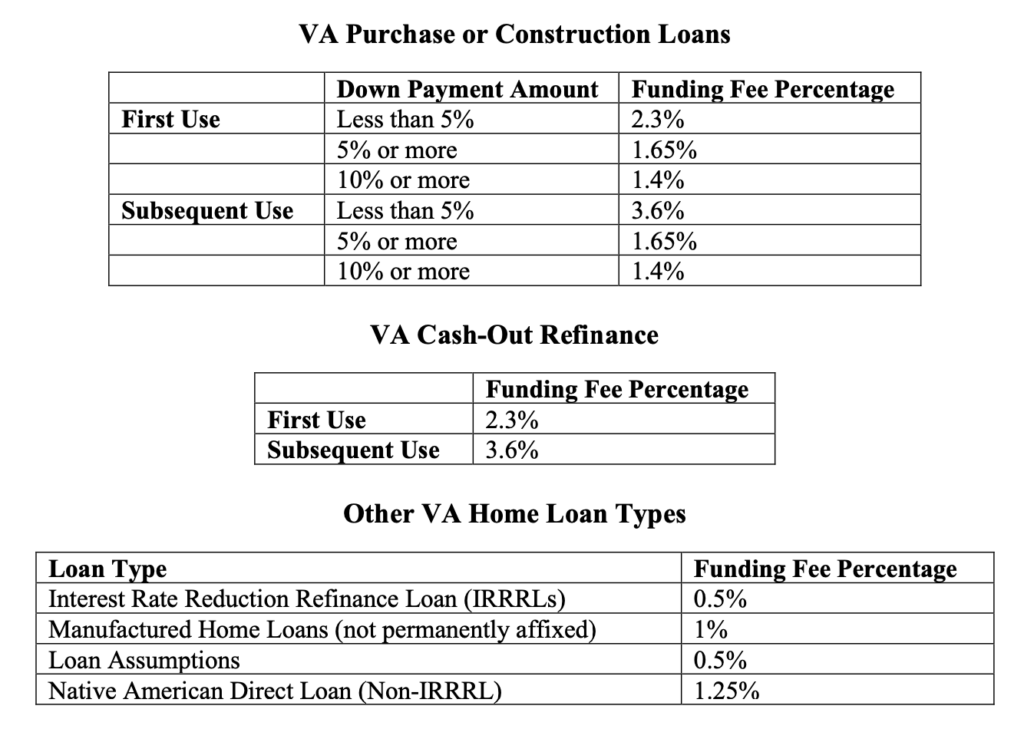 VA Loan Fees for Loans Closing On or After April 7, 2023
The new VA loan fee rates that will apply to loans closing on or after April 7, 2023 and prior to November 14, 2031 are as follows:
Those who qualify for VA Disability are exempt from the VA funding fees.
Thinking About Purchasing a Home with a VA Loan?
If you're in the market for a new home and you're considering a VA mortgage to finance your purchase, get in touch with us today! As a mortgage broker, we can help connect you with home financing options that align with your needs and qualifications – and, given our CVLS certification, our team is uniquely qualified to work with veterans. 
We can help you understand the ins and outs of the mortgage process, and assist you every step of the way as you pursue a VA home loan. 
Give us a call today at 518-782-1202 or contact us online to get the conversation and home loan process started.
Interested in learning more about VA home loans?
The following resources are a great place to start: 
Guide to VA Mortgages: Find the answers to frequently asked questions, learn about qualification requirements, and find recent updates related to VA home loans here.
New York VA Mortgages: Find details about the benefits of VA home loans and learn about the basic steps involved in obtaining one here.
VA Home Loan FAQs: Find answers to frequently asked questions about VA home mortgages.
Posted in
Guide to VA Home Loans
on Tuesday, March 7, 2023 by Maple Tree Funding